VIRGINIA PSI Exam Prep Books
These exam prep books have reading material with table of contents, index and lots of practice exams.
NATIONAL AND STATE BOOK PACKAGE DEAL:
New! PACKAGE DEAL – National and Virginia – Our recommended exam prep books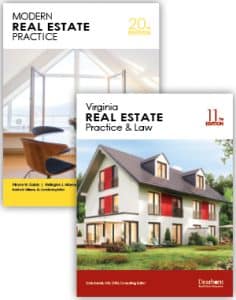 This package has Modern Real Estate Practice (national) and Virginia Practice and Law (state) These are the 2 books below sold separately.   Most recent versions.  These two books have extensive information with reading sections, table of contents, index and a very large number of practice exam questions.  All sections and practice exams and divided into categories based on what will be on the Virginia PSI exam. 
Click to buy (2 books) $83.30   (Also available as downloadable ebooks $83.30)
Also available at our office in Reston, VA  Contact us or call 703-476-1747.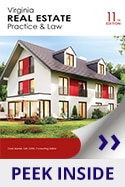 Virginia Practice and Law – Recommended along with the online VA exam prep
The most recent edition -This is a great reference book for use while taking the Virginia license course or for study for the PSI license exam..  It is specific to Virginia rather than national.  It has a table of contents, full index and over 200 multiple choice questions and answers.  You can look things up quickly and easily.  It covers Virginia real estate law (which also includes all the Virginia specific subjects that will be on the Virginia portion of the PSI exam.
View / Buy Book  About $35
Buy/ Download eBook   About $35
*NOTE:  Also available in our Reston, VA office for pick up.  Contact us or 703-476-1747.
——————————–
NATIONAL PORTION OF PSI -Exam Prep Books
* Modern Real Estate Practice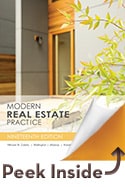 (National, not Virginia state specific)
This is the classic book that has trained more than 3 million people since 1959. It is well organized with table of contents, chapters for all major topics, appendix, glossary, math FAQ and index. Highly recommended if you want to get the industry standard. You can look up any topic desired.
21 Chapters w/ Exams.  2 Full 80 question practice exams.  Math FAQ section, math charts and 50 question math exam. Table of Contents, Index. Glossary.
Book $63 Also available in our Reston, VA office.
Download Ebook $63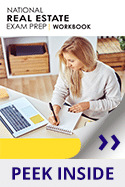 National portion of Virginia PSI exam:
Guide To Passing The PSI Real Estate Exam, 8th Edition – This is the most comprehensive book available to help you prepare for the national portion of the PSI Real Estate Exam, with answers and page references included for over 800 questions and answers.
The PSI exam has 80 national questions. So this national exam prep covers a lot of material and is very helpful.
Buy national exam prep book About $35.50
Download Ebook About $35.50